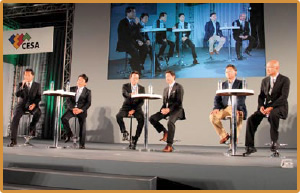 Asian Game Business Summit
TOKYO GAME SHOW 2010 will implement measures to increase business and general visitors especially from Asia. "Asian Game Business Summit" is where top Asian game companies get together. It will be the place to develop Asian market including Japan and TOKYO GAME SHOW shall be useful to your business strategy.
International Business Consultation Corner
This corner offers exhibitors opportunities of business meeting. Japan External Trade Organization (JETRO) will act as bridge between producers and suppliers from Asia, Europe and America.

SENSE OF WONDER NIGHT
The SENSE OF WONDER NIGHT (SOWN) is an event to discover new game ideas that will catch people by surprise and give them a "Sense of Wonder", a sense that something will change in their world. It spotlights motivated game developers by providing them with an opportunity to present their ideas and prototypes.

SOWN 2010 develops new stage for it's value improvement.
1. SOWN pavilion to be set in the exhibition floor
2. SOWN Mobile to be added as a category