PC Game Area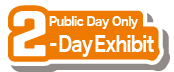 This area exhibits PC games, PCs, and parts, etc. in the vicinity of the site of the international e-sports competition "Cyber Games Asia" focusing on computer games. Here, you can see the feverish excitement in the e-sports competition.

*In case the exhibitor wants to sell products, please ask Management Office.
Exhibit Products
PC online games, browser games, game PCs, PC peripherals,

other PC game-related products and services

*Unit price of merchandise product is limited to up to JPY 30,000 (incl. tax)

*No merchandise sales allowed for Turnkey Booth.