The first visit to TGS -Public Day Version-

We recommend that you get an idea of the look and feel of Tokyo Game Show 2016 (TGS2016) in advance. Photos from TGS2015 are included to help you form a mental picture. Please note, however, that there will be some differences between TGS2016 and TGS2015, so the photos are for reference purposes only.
TIPS on the venue
How to Check Exhibit Locations and Exhibited Content
The TGS2016 venue will be extremely crowded. This year, TGS will be utilizing all of the international exhibition halls at Makuhari Messe (Halls 1-8 on the south side, and Halls 9-11 on the north side). We recommend that you confirm the locations of exhibits and the exhibited content in advance on the TGS2016 official website, make use of the official guide offered at entrances, etc., and check the official app that can be downloaded free of charge.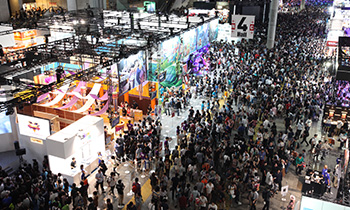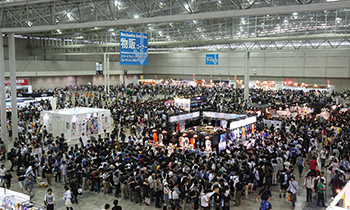 Please note that you can check information in advance. See the latest news regarding media partners and exhibitors, which are updated as needed on the official website's homepage.
A map of the venue will also be published on the official website shortly before TGS2016 is held. An official app (iOS and Android) that will enable you to search the locations of exhibitors at the venue will be made available shortly before TGS2016.
The official SNS accounts for Tokyo Game Show 2015 are as follows:
・Twitter:「Tokyo_Game_Show」
・Facebook:「Tokyo_Game_Show」
---
For Cosplayers
Cosplay is allowed in the dedicated area of Hall 9 and the south side (ocean view side) parking lot of Hall 4-6. Closing time of each are is different, so please check it beforehand.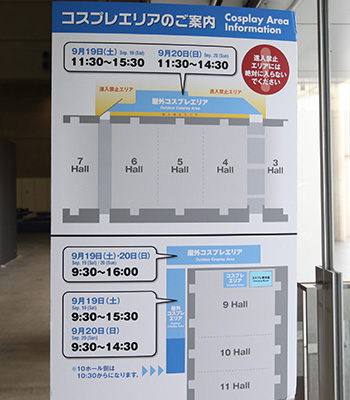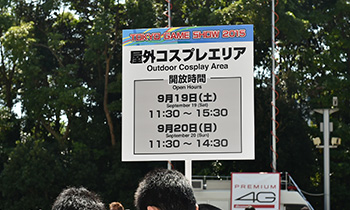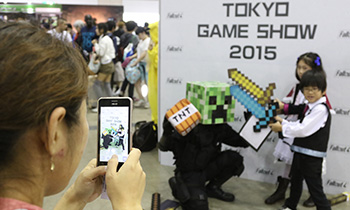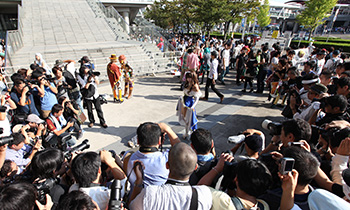 You don't have to apply for Cosplay, though there are restrictions on the types of costumes and tools you can use. There will be check point at the exit of dressing room. Please read restrictions at "To Cosplayers" carefully.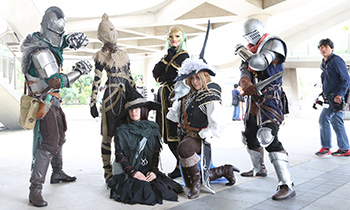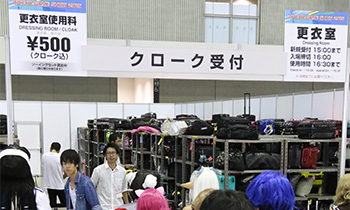 The only place you can change into the costume for cosplay is the cosplay dressing room in Hall 9(Dressing room:500 JPY <including the use of cloak>). To change into costumes in the toilets are prohibited as it may cause discomfort to other visitors. Also, hair spray and color spray is prohibited in the site (including the dressing room).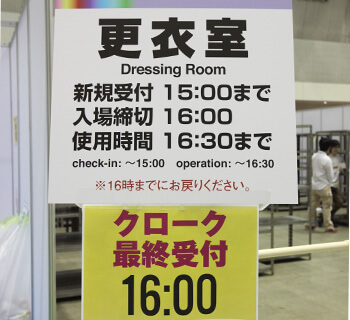 There are restrictions on the costume you can wear and the props you can use. Our staff will check your costume at the exit of the dressing room. Your cooperation would be appreciated. Please note that we may take away any prohibited props/items.
The dressing room will become very busy before closing time. Be sure to return to the dressing room by 4 p.m. and try to get changed as quickly as possible. Dressing room will be closed on 4:30p.m.
(You MUST leave the site by 5 p.m.)
For your information, it is prohibited to come to the site with your costume on or to go outside the site in your costume. (It is possible to go back and forth between Hall 1-8 and 9-11.)
Please refer to "Notice to cosplay participants" for cosplay and dressing room details.
---
In case you want to check your baggage
There is no cloak service at the venue. However, there are coin-operated lockers in Makuhari Messe 2nd Floor Concourse. However, there is no guarantee that a locker will be available, so please be warned in advance.
Those of you who are dressing up in a costume (cosplay) can use the exclusive cloak service located in the Cosplay Area in Hall 9 (Dressing room fee:500 JPY<including the use of cloak>).
---
Support of foreign languages
Official website and the official guide that you will receive when entering the venue are written in English as well. At TGS2016, interpretation service from volunteers will be made available at the information and other places (location of the interpreters will be announced right before TGS2016). Support for foreign language is different depending on the exhibitor.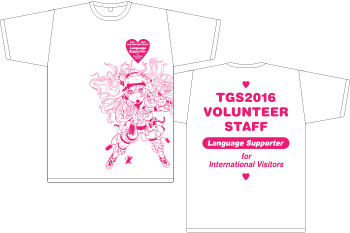 ---
Rules of Wi-Fi use
Please set the Wi-Fi of the mobile routers, smartphones and mobile game machines to OFF at Hall 1 - 8.
Due to the rapid increase of various mobile equipment, the radio wave environment in the venue has become bad enough causing negative effect on game demonstrations and trial plays.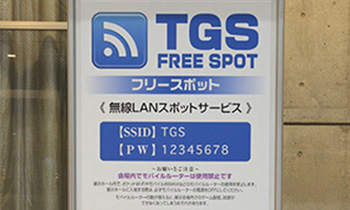 We would like to ask for your cooperation of going to the Wi-Fi area (free of charge) located on the 2nd floor of Hall 1-8 and Hall 9-11 when you use Wi-Fi.
---
Notes for taking photos with cameras and smartphones
In case of taking photos of a certain booth, each exhibitor has its own set of rules. Please follow their rules (some exhibitors prohibit any photos to be taken). If you want to take a photo of a companion, please ask permission before taking any photos. Please use your common sense so that you will not be mistaken for secret filming or secret photographing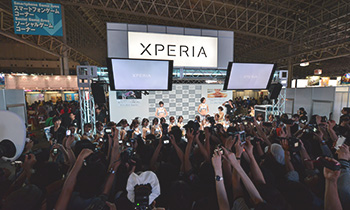 You can only take photos of the cosplayers within "Cosplay Area". "Cosplay Area" is located in Hall 9, outdoors and the south side (ocean view side) parking lot of Hall 4-6. Please do not take any photos on other than these places. Also, please note that video shooting is not permitted.
---
About drinking, eating and smoking
Food Court is located in Event Hall. A drink corner will be available in Hall 2. Also, there are other restaurants in places such as Hall 1-8 2nd floor concourse.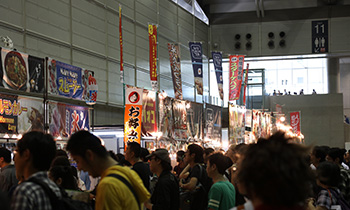 Smoking is prohibited at the venue, so please smoke in the designated smoking areas (on 2nd floor concourse and outdoor terrace, etc.).