TOKYO GAME SHOW(TGS) 2010, which marked 20th anniversary of the event, had a record-breaking number of visitors, exceeding 200,000. In spite of the severe recession, TGS enthusiasts gathered from not only Asia, but all over the world. The massive media coverage of the event and the latest gaming informaiton is provided by 694 domestic and foreign press,who come from all over the globe .
As the first trial of TGS, "Asia Game Business Summit" was held, eight of the top management of leading game companies gathered from China, Japan, Korea, and Taiwan and discussed the trend of the game industry and their future. Also, "CosPlay@TGS 2010" and "TOGEKI in TGS" events have expanded the new dimensions of TGS and have created a whole new load of additional fans.
TGS 2011 is planning to introduce 3 new areas, "Mobile & Social Game Area", "Gaming PC & Network Game Area", and "Gaming Device Area" and will increase  business opportunities for exhibitors.
A TGS community was formed on Twitter from last year. The voices of its visitors are hinting to raise the satisfaction of TGS visitors. In addition, TGS media partner system has delivered invaluable information from the TGS venue to subscribers and end-users around the world. TGS 2011 is an excellent opportunity to promote your products and services and guarantees business growth in Asia.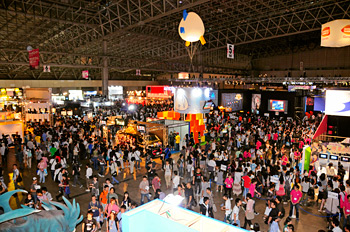 Name:
TOKYO GAME SHOW 2011
Period:

Business Day

September 15(Thursday) - September 16 (Friday) From 10:00 a.m. to 5 p.m.


[Admission is limited to the press,industrial related personnel.]

Open to the Public

September 17(Saturday) - September 18 (Sunday) From 10:00 a.m. to 5 p.m.

Venue:
Makuhari Messe (Mihama-ku, Chiba, Japan)
Organized by:
Computer Entertainment Supplier's Association (CESA)
Co-Organized by:
Nikkei Business Publications, Inc. (Nikkei BP)
Supporter:
Ministry of Economy, Trade and Industry (METI)
Expected # of Visitors:
190,000
Expected # of Booths:
1,550 Booths
Admission Fees:
General Visitor: 1,200 JPY (including tax) / Child (under 12years): Free
Number of Exhibitors/Visitors(2002-2010)
Number of Media During the Show Period, and Number of Reporters
Category
Number of
Media
Reporters
1
Web News/Web Magazine
278
842
2
Newspapers
74
127
3
News Agency
16
35
4
TV(Satellite TV/CATV)
26
69
5
TV(Terrestrial)
84
302
6
Editor/Freelance Writer/Others
151
267
7
Radio
20
28
8
Magazine
328
1,070
9
Overseas Media
690
1,306
Breakdown of Overseas Media
Reported-to Region
Media
Reporter
Asia
South Korea
52
91
Singapore
9
11
Thailand
4
9
Taiwan
72
105
China
34
91
Japan (Foreign Media in Japan)
68
100
Hong Kong
48
74
Malaysia
5
7
Europe
U.K.
35
45
Italy
20
42
Austria
2
7
Netherlands
14
41
Sweden
8
12
Spain
17
28
Slovak
3
7
Serbia
2
4
Czech
2
2
Denmark
3
5

Reported-to Region
Media
Reporter
Europe
Germany
13
22
Norway
3
10
Hungary
2
2
Finland
3
7
France
65
141
Belgium
1
5
Poland
10
18
Russia
4
12
Americas
United States
117
296
Canada
9
17
Mexico
7
10
Brazil
16
23
Argentina
3
5
Oceania
Australia
29
46
New Zealand
2
3
Unknown
8
8