Asia Game Business Summit
Asia Game Business Summit is an international conference aiming at expansion of the game business in the region. The top management from key game companies in Asia gathers in a hall and discuss on a problem and the prospects of the game business in a panel discussion form.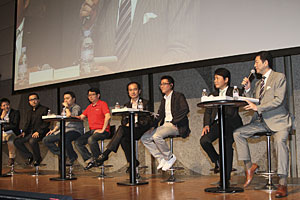 TOKYO GAME SHOW 2010
「Asia Game Summit」
MainTheme「Developing the Game Business in the Asian Region」
Panelist and Participated Companies
China


Mr. Chien Tunghai, Vice President, Shanda Games Limited
Mr. Bo Wang, Vice President, Tencent Games

Taiwan


Mr. Albert Liu, CEO, GAMANIA DIGITAL ENTERTAINMENT CO.,LTD.
Mr. Aaron Hsu, Chairman, XPEC Entertainment Inc.

South Korea


Mr. Jeong Wook, Head of Hangame, NHN Corporation
Mr. Min Seo, CEO, NEXON Corporation

Japan


Mr. Yoichi Wada, President & Representative Director, SQUARE ENIX HOLDINGS CO., LTD.
Mr. Haruhiro Tsujimoto, President & COO, CAPCOM CO.,LTD.
TGS Forum 2011

TGS Forum 2011 will focus on lastest technologies and business trend of the gameindustry. TGS 2011 adds more sessions and influences of IT and electronic technology on game industry. Target audience of TGS Forum will be people at game related industries. TGS Forum is highly evaluated as comprehensive conference of game business.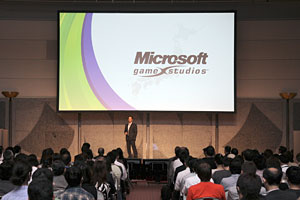 SENSE OF WONDER NIGHT 2011

"SENSE OF WONDER NIGHT (SOWN) 2011" assigns spotlights to a game developers to draw ideas with suddenly change the world and the moments. SOWN 2011 finds out the idea of a game causing changing sense: "SENSE OF WONDER". "SENSE OF WONDER NIGHT (SOWN 2011)" will be held to provide an opportunity of the presentation for game developers at TOKYO GAME SHOW. Total of 9 presentation works picked from application more than 60 in total is carried out previous event. Approximately 300 people have attended , and the venue at the selection has taken place in the prosperity with an international atmosphere. SOWN 2011 becomes the fourth anniversaries at the realization of the valuable plan to the game developer of every layer.