How to use Priority Tickets Counter
At TOKYO GAME SHOW 2011, to avoid congestions and to prevent dangers, priority tickets are distributed to visitors. The following trial plays and event stages are ditributed from the opening time on the day.
【Notes on Priority Tickets】
The priority ticket can be received

only one per person

.
The priority ticket can be effective on the day and time only. Changing time/date and exchanging tickets are prohibited.
Entrance are divided into 6 lanes by game title or event stage.
Distribution lane is exclusively set for specified priority ticket.
After having received priority ticket, re-line up in a same lane is strictly prohibited.
The priority ticket distributes on the day only. Distributions are based on first-come, first-serve basis.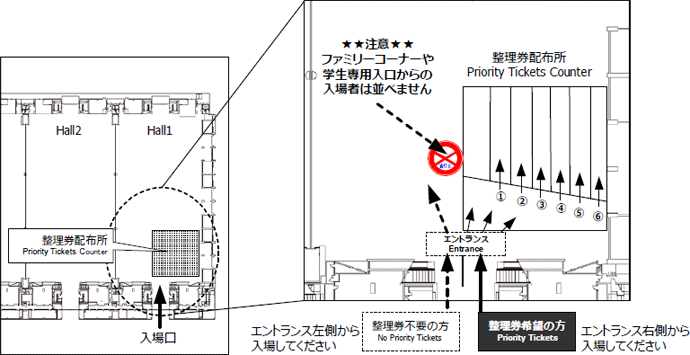 September 17 (Sat.)
Priority Ticket Distribution Lane
Lane 1: ARC SYSTEM WORKS
Event Stage Entrance Ticket 14:00-15:00
『Pururadi W TGS2011 Public Recording Special』
Lane 2: CAPCOM
Trial Play Ticket 『MONSTER HUNTER 3(Tri)G Single Play』
Lane 3: CAPCOM
Trial Play Ticket 『MONSTER HUNTER 3(Tri)G Multiple Play』
Lane 4: Sony Computer Entertainment
Trial Play Ticket 『FINAL FANTASY XIII-2』
Lane 5: Sony Computer Entertainment
Trial Play Ticket 『NINOKUNI』
Lane 6: NAMCO BANDAI Games
Event Stage Admission 12:00-13:00
『THE IDOLM@STER TGS SPECIAL EVENT 02』
September 18 (Sun.)
Priority Ticket Distribution Lane
Lane 1: CAPCOM
Trial Play Ticket 『MONSTER HUNTER 3(Tri)G Single Play』
Lane 2: CAPCOM
Trial Play Ticket 『MONSTER HUNTER 3(Tri)G Multiple Play』
Lane 3: Sony Computer Entertainment
Trial Play Ticket 『FINAL FANTASY XIII-2』
Lane 4: Sony Computer Entertainment
Trial Play Ticket 『NINOKUNI』
Lane 5: NAMCO BANDAI Games
Booth Stage Admission
『20th Anniversary Suparobo Special Live』
Lane 6: NAMCO BANDAI Games
Booth Stage Admission
『THE IDOLM@STER TGS SPECIAL EVENT 03』