The first visit to TGS -Business Day Version-


The picture shown here are from TGS2012. Please look at them for your reference.
Precaution after entering the venue
Rules for using Wi-Fi
Please set the Wi-Fi of the mobile routers, smartphones and mobile game machines to OFF in Hall 1 - 6.
Due to the rapid increase of various mobile equipment, the radio wave environment in the venue has become bad causing some effect on game demonstrations and trial plays. We would like to ask for your cooperation in going to the Wi-Fi area (free of charge) located in the 2nd floor concourse when you want to use Wi-Fi.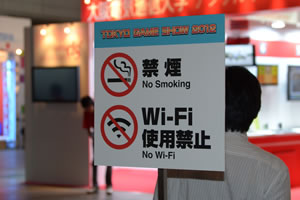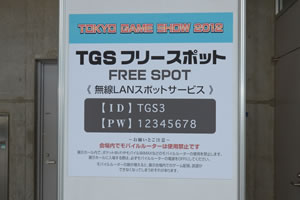 To look around the venue efficiently
Please roughly check the arrangement of the exhibitors' booths with the official guidebook (free of charge) that is provided at entrances and other places. (Floor map will be uploaded on the website right before TGS2013.) Exhibition booths are in Hall 1 - 6, and drinks, Merchandise Sales Area, event stage and Cyber Games Asia (eSports Competition) are in Hall 7 and 8.
From this year, there will be several digital signages (electronic signboard) in the venue. Waiting time for trial play, event schedule and any changes in the information for large-size booths will be displayed.
Usually, it is less crowded in the morning. Therefore, to look around efficiently, we recommend you to come in the morning.
Notes for taking photos at the venue with cameras and smartphones
In case of taking photos of a certain booth, each exhibitor has its own set of rules. Please follow these rules (some exhibitors prohibit any photos to be taken).
For your information, media such as TV, newspapers, magazines or the Management Office will be taking photos at various places in the venue for press report and keeping a record. Please be warned in advance that there is a possibility that you may get into such photos.
Support of foreign languages
Official website and the official guidebook (free of charge) are written in English, Korean, simplified Chinese and traditional Chinese (some parts are only written in Japanese). At TGS2013, translation service from volunteers will be made available at the information and other places. (Location of the translators will be announced right before TGS2013.) Support for foreign language is different depending on the exhibitor.
How to pay for goods, food and drinks
Basically, you will need to make a cash payment in Merchandise Sales Area and Food/Drinks Corner.
About drinking, eating and smoking
There is Food Court at the venue and some tables are available although there are no chairs. Also, there are other restaurants at the 2nd floor concourse, etc. and some stores as well as restaurants around Makuhari Messe .
Smoking is prohibited at the venue, so please smoke in the designated smoking areas (smoking corner at the 2nd floor concourse and other places).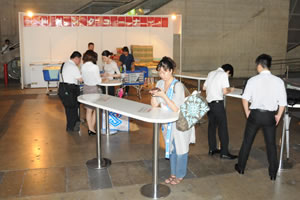 Besides the food corner, there is also some plan to set up drink corners.
About a place to rest