SENSE OF WONDER NIGHT(SOWN)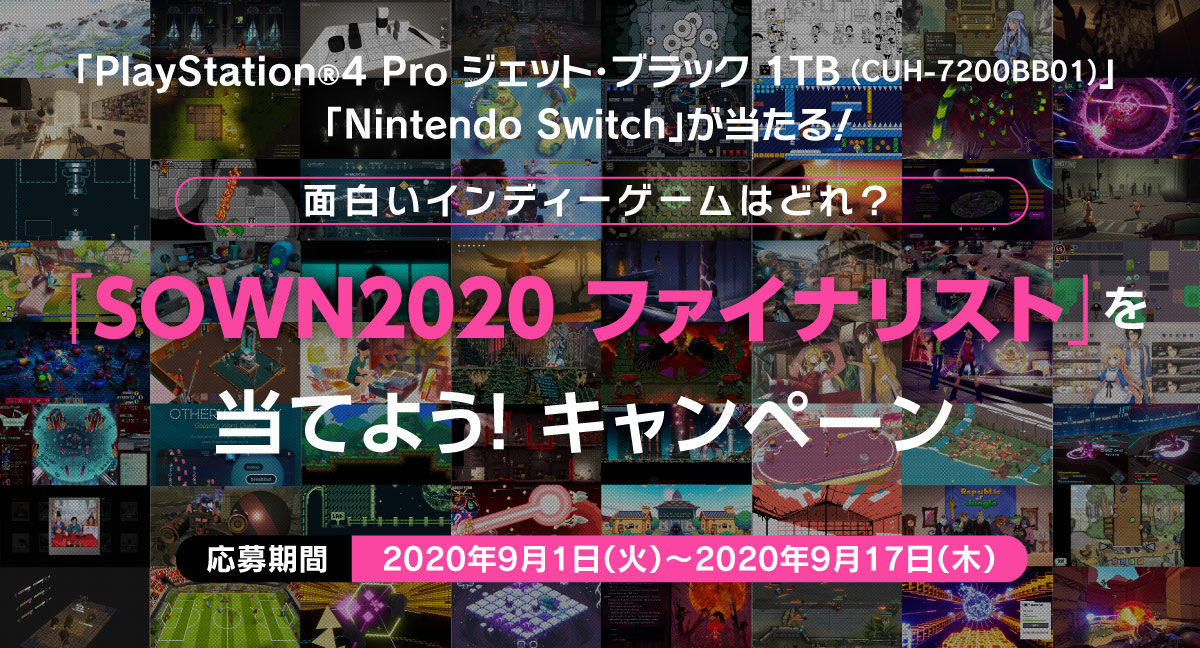 What is "SENSE OF WONDER NIGHT"?
ENSE OF WONDER NIGHT (SOWN) 2020 throws spotlights on game developers to draw wellspring of ideas which may stir the static concept of the game. In other words, SOWN2020 will find out the game ideas causing "SENSE OF WONDER". To make such unique ideas widely known, SOWN2019 would provide a presentation opportunity for game developers with unique ideas at TOKYO GAME SHOW 2020. SOWN2020 commemorates the 13th anniversary with internationally increasing applications.
Last year, total of 8 presenters had been selected presenters out of 86 Indie Game Area exhibitors. Nomination process was conducted through the screening committee consists of indie game experts, creators and publishers inside and outside of Japan. 8 presenters from 4 countries/regions were selected. Countries of nomination were as follows: four from Japan, two form US, each one from China and Poland. About 400 people attended SOWN2019, where the venue was packed with excitement and international atmosphere applauding each presentation by shaking toy hammers!
"Grand Audience Award" "Best Technological Game Award" "Best Arts Award" "Best Experimental Game Award" "Best Game Design Award" "Best Presentation Award" trophies were given in the end and all of eight developers enjoyed networking at International party + Indie Night with attendees and screening committee members.
The entire applicants for the SOWN2020 are set to be entered as prospective exhibitors for Indie Game Area Special Booth at the TGS2020. The applicants are elected as the exhibitors of Indie Game Area Special Booth (for free) according to fair screening by the selection committee. Furthermore, the finalists of SOWN2020 will be chosen from the applicants elected as the exhibitors of Indie Game Area Special Booth by the selection committee.
For the first time in SOWN's history, SOWN award winner will be able to receive prize.
* Grand Audience Award : 3,000 USD
* Other Awards:500 USD
Objectives of "SENSE OF WONDER NIGHT"
● To introduce game with a game design and ideas that are experimental and creative, and that cannot be called conventional or traditional
● To raise awareness of the great value of "sense of wonder" in games, which may transform the common sense of game, and lead to invigorate the game industry
● To offer people creating experimental games opportunities for the future product release
● To create new domains in the game industry
Why don't you show your idea to the Tokyo Game Show audiences who come from everywhere in the world? And we would like you to be inspired by other presenters and audiences and find new experience and network at SOWN 2019.
Acknowledgement
The "SENSE OF WONDER NIGHT" event has received a lot of inspiration from the "Experimental Gameplay Workshop" that was started at the Game Developers Conference in 2001. We would like to express our thanks to the many people who helped to make these workshops a success and to all our friends.
Games for SOWN
1. A game that realizes a totally new, never-seen-before gaming experience
A game that employs technologies that have not previously been used successfully, such as natural language processing, physics engines, image recognition or gesture control, to present a new kind of experience.
2 . A game that challenges the common sense of games
A game that pursues new ways of gaming expressions and changes the player's vision of the world after playing and experiencing it.
3 . A game with emergent features
A game that brings user's activities into the game world by embedding features such as AI interactions and social elements.
4 . A game that makes people want to play it immediately
A game that makes everyone thinks that they want to enjoy the new experience for themselves and feel that they want to treasure it.
5 . An amazing game
Any kind of new, eye-grabbing and impressive game!!
Games to which the following conditions apply will NOT meet the selection criteria:
1. A game in which only the elements comprising the game are the key factor
A game in which the newness and highlights are focused on the one elements comprising the game (such as the background setting, situation, character design, graphics, story, audio, etc.) instead of the game itself.
2. A game of a new genre created by combining or rehashing existing genres
However, a game providing a truly new game experience may be considered for acceptance.
3. A game that is new only in targeting a specific user group
A game will not be deemed as being new and innovative just because it is focused on a specific user group (such as female users or the elderly). However, a game providing a truly new game experience may be considered for acceptance.
4. A game created for the purpose of demonstrating a technological
innovation, experimental business model, or distribution mechanism
A game of this kind will not be completely rejected from the screening process but they must demonstrate that it is capable of directly and tangibly providing a new game experience.
Member of committee
Journalist (Game, IT)

Tokyo VR Startups board member

Kiyoshi Shin

VR game company Yomune.co representative, Digital Hollywood University associate professor Born in 1970, He is Journalist (Video Game / IT) and the Founder and Director Emeritus of International Game Developers Association Japan (IGDA Japan). Currently he manage the VR developers' community which is his primary focus as of now. He published a book called "Shock of VR business Virtual reality bring up gigantic money"
Gametapas

Founder

Juan Gril

Juan has designed and produced successful mass market games for two decades. Currently, Juan is the founder of Gametapas. Previously, he founded Joju Games, a successful casual games studio. Working with both big media companies and game publishers, Joju developed more than 50 games for PC, console, and mobile platforms over 12 years. Juan started his career in the late 90's, when he was one of the original members of Yahoo! Games.
Associate Professor, Tohoku Gakuin University

Nobushige KOBAYASHI (Ph.D.)

Chair of SIG-INDIE at International Game Developers association Japan chapter. Doctoral degree recipient from Tokyo Institute of Technology by the dissertation of "Self-Production Culture as a Key to Growth of Japanese Game Industry", which analyzes problems and solutions of the relations between the independent game development and the game industry of Japan by the social scientific method. A book "Introduction to Digital Games Research" written and edited by him will be published from Minerva Shobo in the summer of 2019. Specialized in media research and cultural sociology.
Circle head, Game Planner, Programmer

Isao Kitayama

Kitayama has established Shindenken in 2002. He has served Comic Market 20 times and has addressed Dorkbot, Sense of Wonder Night, and IGDA conference. He has developed more than 20 game titles including "I will be God of the Forest World.
Business Developer

BadLand Publishing

Ramon Naeval

Ramon began with videogames at 1992, at the age of 12 years old. Then he decided that this is the best medium for express himself. Has been writing for spanish media since 1999 (Onez, Ociojoven, Anaitgames, Eurogamer, Videoshock and Vandal) and has made games since 2003 (Nerlaska, Gameloft, Digital Legends, Abylight, U Play, Blit Software and A Crowd of Monsters). Appart from that he teaches about videogames in several universities, and is part of several videogames developer association.
NPO OcuFes

.

Kenji Takahashi

Kenji joined KOEI in 1998 and had engaged in Dynasty Warriors 1 -4 series. In 2008 he joined Creatures Inc. to be a director of PokePark. 2013 was the year he got OculusRift DK1 as a kickstarter, then he started OcuFes(current Japan VR Fest) as release event of VR softwware. He became independent as a VR professional and incorporated OcuFes in 2014. He is actively in charge of VR promotion in Japan and trailblazing work for VR business development internationally.
ProjectWhite(TSUKUMO)

Operating officer, General Manager of Sales Planning Department, General Manager of Product Planning Department

Kazunori Komagata

I enjoyed entertainment such as games. In charge of planning event exhibition plans such as TGS, Bitsummit, Comiket Magical Mirai.
Tsukumo Virtual Shopping, which is broadcast once a month, is also active as a beautiful girl VTuber.
Contact
SENSE OF WONDER NIGHT 2020 Secretariat
E-mail:sown@eventinfo.jp
(Only e-mail inquiries will be accepted)