The International Business Consultation Area (open for Business Days) is a meeting area for people from Japanese companies extending their operations into overseas markets and for domestic and international business persons who want to expand their endeavors in the Japanese market. In cooperation with IMAGICA DIGITALSCAPE, counseling services regarding career developments and recruiting in the game business are provided at the corner.
In cooperation with Business Wire Japan, counseling services regarding advice on disseminating information internationally are provided at the International PR Counseling Corner.
Business Matching
Matching and counseling service for companies/persons considering development
partnership and alliance.
1. Buy/sell content and its copyright
2. Considering deal with Japanese gaming companies
3. Recruiting Japanese employees, or partnership educational institutes in Japan4. Work for Japanese companies
Japan External Trade Organization (JETRO) will be holding Game Business Matching Meeting at Business Meeting Area (Location: International Conference Hall 2nd floor) that invites buyers from overseas(open for Business Days). The meeting aims to build matchmakings among online and mobile game businesses. JETROa also holds its seminar on 'Overseas Business Seminar' (free) in September 21 (Fri.) 10am.
■For details:
http://www.jetro.go.jp/events/tradefair/20120814566-event/
Recruit Consulting
Categories:
Developing a relationship of companies and individuals involved in computer entertainment business and gaming industry. For those who with to seek a job in the field regardless of nationality.
Fee:
Free of Charge (For those who want to consult, highly recommend to have appointments in advance with TGS Business Matching System 'Asia Business Gateway'.
International PR Consulting
International PR Consulting holds at the corner.
To make appointment the above consulting, highly recommend to register TGS Business Matching System 'Asia Business Gateway'in advance.
Exhibition Area(Exhibition Hall3)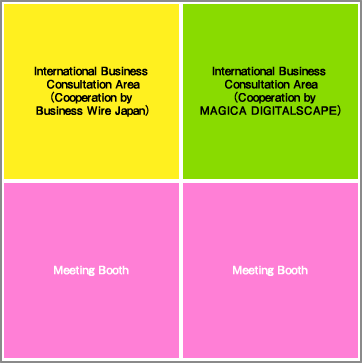 Cooperation by:

IMAGICA DIGITALSCAPE Co., Ltd.(http://www.dsp.co.jp/)