Floor Map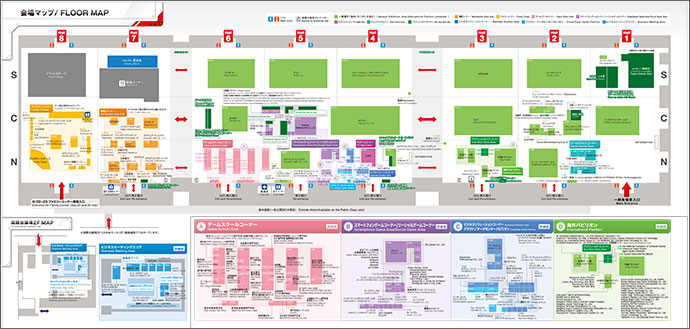 Click to enlarge
Exhibition Areas
General Exhibition Area
General Exhibition Area on digital gaming entertainment. The area introduces digital entertainment-related products/services.
Merchandise Sales Area
The area is an exclusive corner for merchandising of game-related goods.
Game School Area
Vocational game schools introduce their projects for a future creator.
Family Corner
Area for family-oriented game software and related products.
Smartphone Game & Social Game Area

Focusing on games for smart devices (smartphones, such as iPhone, Android, and Windows Phone, and various tablets) and social games for PCs or mobiles.
PC Game Area

PC Game Area covers the world of online PC games. Check it out and experience the impressive images of PC games.
Game Device Area
The area covers gaming devices such as headphones, gaming controllers, gaming furnitures, and other gaming devices associated with home-use gaming consoles and portable gaming devices.
Asia New Stars Area

This exhibition area is targeting to introduce emerging game developer from Asia.
Business Solution Area
BtoB exhibition area for gaming business solutions.
Cloud/Data Center Pavilion
The pavilion for solutions of the cloud / data center to support infrastructure environment of a social game and the network game. The pavilion will be located in Business Solution Area.
Business Meeting Area

This area provides full function of business meeting with a quiet atmosphere.