1

How did you get involved with video game development?

When I was a high school student, I wanted to have a job that I found enjoyable. The thing that popped into my head was video games.
That flowed into my time as a college student, when I began creating video games.
Before I knew it, I was designing games both as a job and as a hobby.
2

How long did it take you to design the game you entered in SOWN?
Not until it was completed, but rather from the starting point to the point
at which you presented it.

As of the time of the presentation, it was about one year.
3

How did you come up with the idea for the game?

From the time I was a child, I frequently played video games with my friends and family. In that setting, the question that was always in the back of my mind was whether there was a game that more people could enjoy playing together.
In addition, I really hated it when somebody would get in a bad mood while playing a competitive game. The feeling that it was more fun to cooperate than compete was at the foundation.

One day while I was thinking about that, I looked at the multitap of a home-use game console and realized that a large number of people would be able to play if a lot of USB controllers were connected and the idea took shape right there.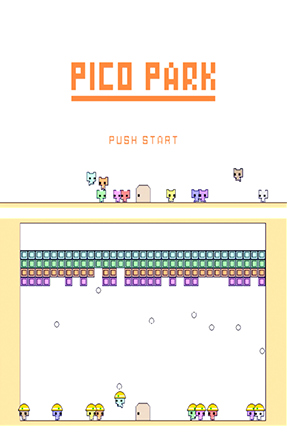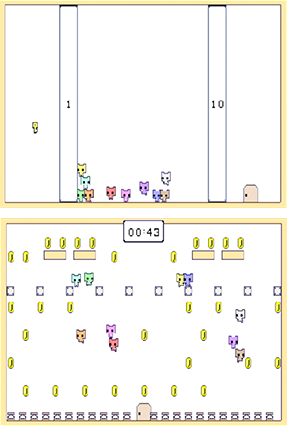 4

What development tools did you use?

I did the development in C++ using Visual Studio.
5

What are the big differences between games you designed in the past and
the game you presented?

Compared to games I designed when I was a student, the big difference is the ability to visualize people enjoying the game.
Because this game is multiplayer, I always held a concrete image in my head of the types of conversation that would be sparked, and how people would get excited, in certain situations.
6

Have you officially released or launched sales of the game you submitted?
How did it turn out? Please tell us about subsequent events.

It's scheduled for release in 2015.
I've launched a website and released a trailer for the game.http://picoparkgame.com/
7

What are your goals as a game developer right now?

I want to rent an entire movie theater so even more people can enjoy playing the game.
I would be glad if we could set a Guinness Book record.
I would also like to decrease the number of people who think that they're not good at video games, or that video games are difficult.
8

What advice would you give to developers who are thinking about
entering a game in SOWN?

There really are a lot of wonderful and surprising games at SOWN.
Having my game played in that setting, giving a presentation in front of hundreds of people, and having the game evaluated gave me a lot of confidence.
If you are considering submitting something, please do so!
The reviewers are all people with experience and a rich track record. Having your game selected for presentation is certain to give you confidence.