The first visit to TGS -Pubic Day Version-


The picture shown here are from TGS2012. Please look at them for your reference.
Information that you can benefit from
To look around the venue efficiently
Please roughly check the arrangement of the exhibitors' booths with the official guidebook (free of charge )that will be provided at entrances and other places. Exhibition booths are in Hall 1 - 6, food, drinks, Merchandise Sales Area, event stage and Cyber Games Asia (eSports Competition) are in Hall 7 and 8, and Family Area, Cosplay Area and TGS Big Draw are in Hall 9
From this year, there will be several digital signages (electronic signboard) in the site. Information for large-size booths, such as the waiting time for trial play, and whether there are any items being distributed or not will be displayed. (The location of the digital signage will be announced right before TGS2013.)
It will be very crowded in the site, so it is better to check the location of the booths you want to visit beforehand.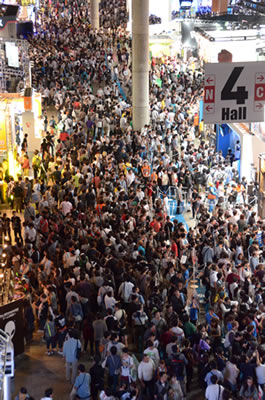 About newly established areas
Tokyo Game Show is developing each year. In order to feature the game genre that has earned attention, we have some newly established corners. There is "Romance Simulation Gaming Area" for ladies, area for "Cloud Gaming "which has become quite popular, as well as "Indie Game Area" where you will find some completely original independent games .
Areas for enjoying things other than games
To enhance the excitement of TGS, we have set up various areas so that the visitors can enjoy things other than games. In Hall 9, there is a "Cosplay Area" where you can buy related goods. Also, there is a TGS Big Draw which gives you a chance to win some novelty items and special cards provided by the exhibitors.
How to pay for goods, food and drinks
Basically, you will need to make a cash payment in Merchandise Sales Area and Food/Drinks Corner.
About Merchandise Sales Area
At Merchandise Sales Area, popular items of the exhibitors as well as TGS2013 official goods can be purchased. Official goods are also sold at the 2nd floor concourse, central plaza outside and other places. The list of available items will be announced on the official website.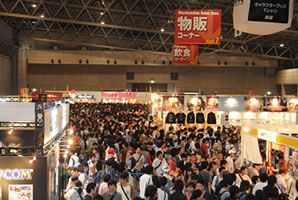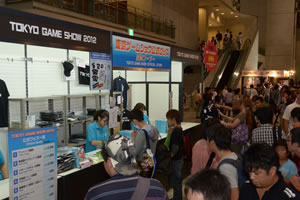 Support of foreign languages
Official website and the official guidebook that you will receive when entering the venue are written in English, Korean, simplified Chinese and traditional Chinese (some parts are only written in Japanese). At TGS2013, translation service from volunteers will be made available at the information and other places (location of the translators will be announced right before TGS2013). Support for foreign language is different depending on the exhibitor.
About Japan Game Awards "Future Category" 
Various awards will be presented at the Japan Game Awards 2013. The announcement and presentation of the Awards will take place on September 21 (for Amateur Category) and 22 (for Future Category).
In "Future Category", promising titles will be chosen from entries of unreleased game software. Votes from the visitors (September 19-21) will be used as a reference for screening. Voting stations will be located at the Japan Game Awards booth in Hall 2 and entrances/exits in the venue. From among the people who voted, some person will be chosen in a drawing to win a newly-released software. Also, everyone who voted will receive a "Double Challenge Ticket" that will allow you to draw lots 2 times instead of one at the Grand Lottery (Hall 9). So, please cast in your vote.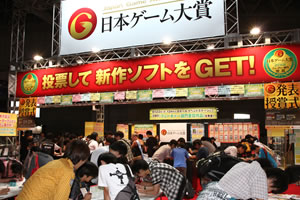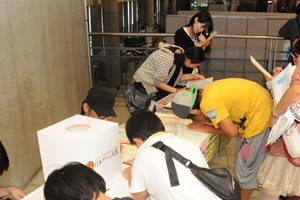 To see the live performance at the Event Hall
On both September 21 and 22, "THE IDOLM@STER 8th ANNIVERSARY HOP!STEP!!FESTIV@L!!!@MAKUHARI" will be held at the event hall as an official event for TGS2013 (Doors open at 5 p.m./Show starts at 6 p.m.). To see this live performance, a special ticket with an TGS2013 entry ticket will be necessary.