The first visit to TGS -Pubic Day Version-


The picture shown here are from TGS2012. Please look at them for your reference.
Points for your attention when you leave the venue / re-enter the venue
About re-entry
Even if you leave the site, you can enter again as many times as you want during the opening hours. Please have the staff push a stamp that become visible by illuminating it with a black light when you leave. It may come off when you wash your hands, so please be careful. When you enter again, have the staff check your stamp at the re-entry entrance.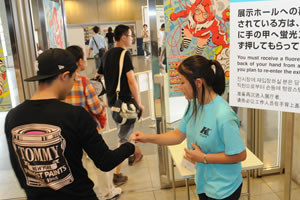 About Exit Time
Visitors MUST leave the site by 5 p.m. Usually from around 4:50 p.m., the companions at some of the exhibitor's booth all line up to see the visitors off, but please make sure to leave the site by 5 p.m.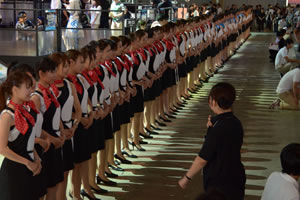 Effective days of the ticket
The ticket is only valid on that day. If you want to come on the 2nd day as well, please purchase the ticket for the 2nd day.
Are there any events after TGS closes?
On September 21 (Saturday) "Cosplay Collection Night @TGS"(sponsored by Cure)will be held at the Event Stage from 6:30 p.m. after the doors close. To see the "Cosplay Collection Night", you need to get a numbered ticket. This numbered ticket will be distributed on September 21 from the time doors open at "Cosplay Area" in Hall 9.