Cosplay Collection Night @TGS
Cosplay Collection Night @TGS
A cosplay event is planned for Public Days
TOKYO GAME SHOW 2018 will feature Cosplay Areas in the part of Hall 9-10. And on September 22nd (Sat), Cosplay Collection Night @TGS presented by Cure will be held starting at 18:30 in Hall 1 (Event Stage). We hope all cosplayers will be sure to attend.
Cosplay Collection Night @TGS presented by Cure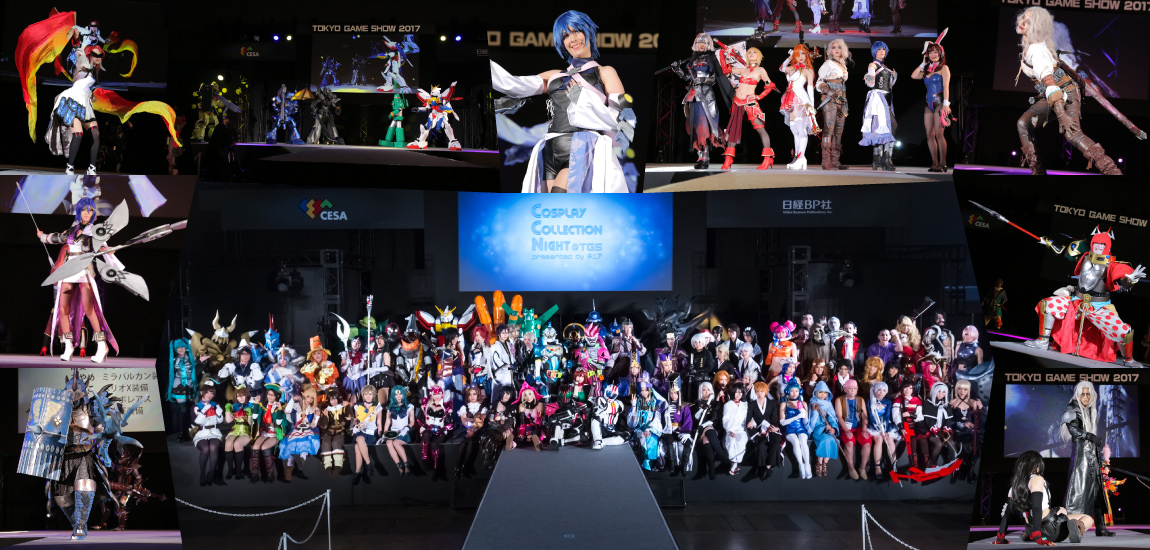 Cosplay Stage will be presented by Cure World Cosplay where we can enjoy cosplay across the world. Various performances such as cosplay skit and fashion show would be of hilarious charm. Cosplayers from around the world will come together to cheer the stage up!
Details
Date

September 22nd (Sat) 18:30-20:00
Venue

Event Stage, Hall 1, Makuhari Messe
Performers

Kneel dowN, WizUs, Ryu-En, HeroPar, Maji Pro Wilder, CbC∞, Machipot Indonesia(Indonesia), Taiyou-gumi(Russia), ACG Goddess(Hong Kong), Team Hara(South Korea) plus more than 200 popular cosplayers
Producer: Tatsumi Inui(Cure)
MC:AYAKAWA YUNMAO
DJ&MC:WAN
Sponsor
How to Participate
A numbered ticket is required for participation in Cosplay Collection Night.
Tickets will be distributed on Saturday, September 22nd in the Cosplay Area at Exhibition Hall 9.
※Admission to Tokyo Game Show 2018 will end at 4:00 PM.
Participants should be sure to enter Tokyo Game Show 2018 by 4:00 PM.
※Tickets are limited. Distribution will end when they run out.
※Participation is not limited to cosplayers, but is open to everyone.
※The venue is free seating.
※Visit the Cosplay Collection Night ticket desk in the Cosplay Area with any questions on the day of the event.
Admission Procedures
After the exhibition closes at 5:00 PM, gather at the assembly point of "Event Hall" at Hall 1.
You will be instructed to stand in line by order of numbered tickets.
Around 6:00 PM, participants will be led by a staff member to the Exhibition Hall 1 Event Stage.
※Your ticket will be checked at the time of admission. Be sure to bring it with you.
※Please note that the cosplay changing room in Exhibition Hall 9 will be CLOSED. For those who will be participating Cosplay Collection Night, please change into ordinary clothes prior to the show.
※Be sure to keep any valuables with you at all times.
※The organizers will not, for any reason, be liable for the loss of or damage to valuables or other personal items brought into the venue.
To Cosplayers(For your attention)