整理券の配布について
Distributing Numbered Tickets
Using the Numbered Ticket Distribution Stations
At the TOKYO GAME SHOW 2018, the following numbered tickets for game title trials and numbered tickets for stage attendance will be offered at the Numbered Ticket Distribution Stations to alleviate venue crowding and prevent dangers.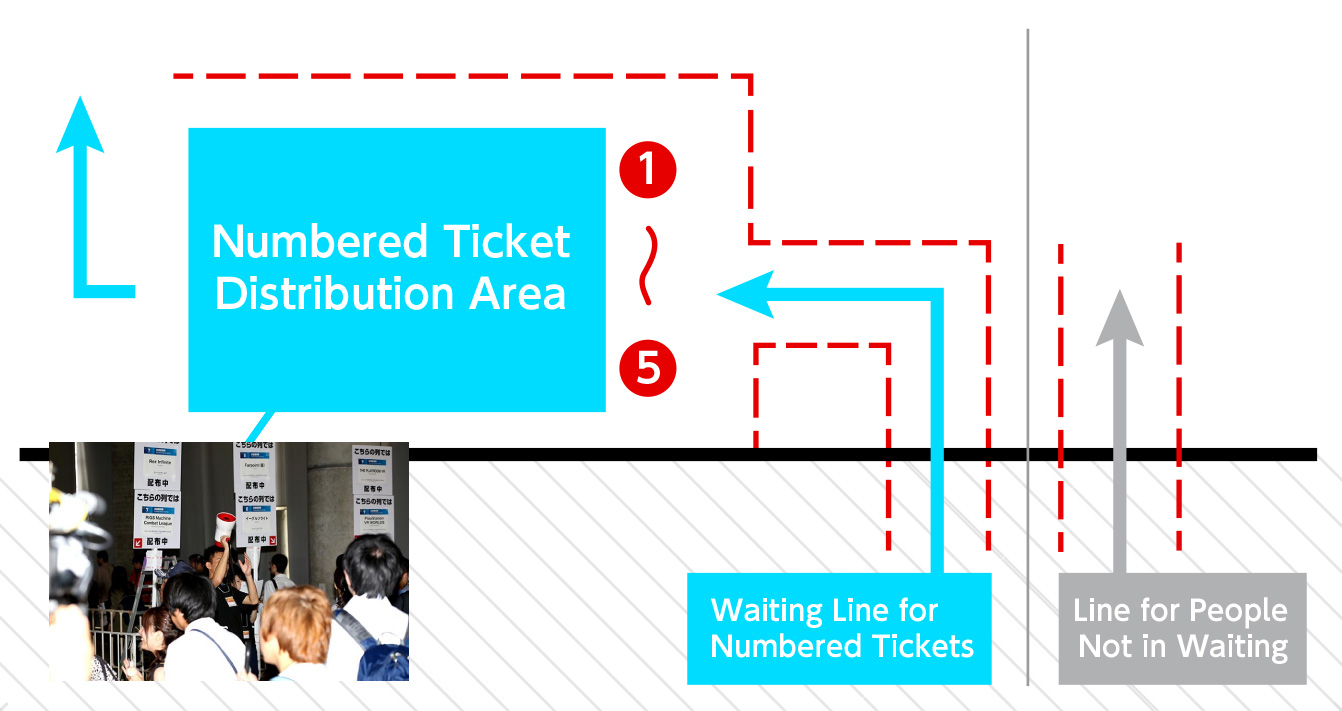 ● Numbered Ticket Distribution Stations are set up at the initial entrances of Halls 1 to 8. Visitors from Halls 9 to 11, Family Game Park, and other dedicated entrances may not line up at Numbered Ticket Distribution Stations. Those who want number tickets should line up at the "General Entrance" of Halls 1 to 8.
● ou may receive only one numbered ticket per person.
● Numbered tickets are valid only for the dates written on each one. Changing dates or exchanging numbered tickets is not permitted.
● Numbered ticket entrances are divided by type, from 1 to 5.
● The line for distributing numbered tickets is a dedicated line, so people in this line may not obtain numbered tickets distributed in other lines.
● You may not get in line again after receiving a numbered ticket.
● You may not get in line again once you have left the distribution area
● The portion of numbered tickets for a single day will be distributed. Please note that once they are gone, no more can be distributed.
● Please note that Numbered Tickets are subject to change without notice.
Sat, Sep. 22
BANDAI NAMCO Entertainment
Event Stage in Hall 1 (14:30-15:30)
THE IDOLM@STER SHINY COLORS Talk Show & Mini Live -Light UP!!! illumination STARS-
Bushiroad
Stage at Bushiroad booth
"BanG Dream! Poppin' Radio!" × "Roselia's RADIO SHOUT!!" Special Collaboration Stage in TGS2018
Revue Starlight -Re LIVE- TGS2018 Special Stage②
Kemono Friends Pavilion Special Stage
KONAMI
Numbered Ticket
LOVEPLUS EVERY ORIGINAL BAG
Sun, Sep. 23
Bushiroad
Stage at Bushiroad booth
The Prince of Tennis Ⅱ RisingBeat "TENIRABI " ch. Special Edition in TGS2018
BanG Dream! Girls Band Party! @Hello, happy world! CiRCLE Broadcaster in TGS2018
SENKIZESSHOU SYMPHOGEAR XD UNLIMITED Special Stage in TOKYO GAME SHOW 2018
KONAMI
Numbered Ticket
LOVEPLUS EVERY ORIGINAL BAG