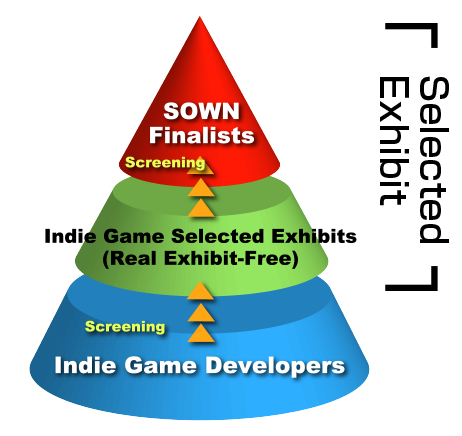 In the world of indie game developments, new game ideas are constantly emerging and breathing new life into the entire video game industry. At the TOKYO GAME SHOW, with the cooperation of supporting companies, the event will set up an indie game "Selected Exhibit" scheme where selected indies can exhibit for free in the "Indie Game Area" for the purpose of supporting indie game developers.
Exhibitors of the indie game "Selected Exhibit" will be entitled to the indie game pitch event "SENCE OF WONDER NIGHT (SOWN)" as it is. Eight particularly outstanding works will be selected as SOWN finalists by selection. Finalists will be asked to present their work at the SOWN held during the TGS2022 session. The SOWN will be held at the studio inside the Makuhari Messe venue, and the pattern will be broadcast live online.
The judges will select the exhibit in advance, and the successful works can be exhibited as an indie game "Selected Exhibit". If you do not meet the conditions of this project, please consider exhibiting in the "Indie Game Area" for fee-charged basis. The deadline for paid exhibition applications is May 27, 2022 (Friday). The notification of acceptance of the indie game "Selected Exhibit" is scheduled for late June. Those who missed the screening can apply for the "Indie Game Area" with fee-charged even after the exhibition application deadline.
Selected Exhibit

Indie Game "Selected Exhibit"

Venue

Makuhari Messe
(2-1, Nakase, Mihama-ku, Chiba-city, 261-8550 Japan)

Period

September 15 (Thu.) ~ 18(Sun.), 2022

Screening

Selection will be conducted by the TGS Management Office

Exhibition fee

Free of charge

About Screening

① To whom wish to apply for Selected Exhibit, please check whether you meet "Group or Organization that can be exhibited" and your work submitted for entry meet "What can be exhibited" first, then click on the link below, named "to ENTRY FORM" to fill out the web form and submit it. If you apply for more than one title for "Selected Exhibit", please apply for each one.

② After the application deadline, we are supposed to review all applications to select the titles presented for the exhibition. We will then directly inform individual or company applicants who passed the screening.

③ The exhibitor passed the screening for the Selected Exhibit are automatically applied for SOWN2022, an "Idea Contests" to choose the best game from the title exhibited at the Selected Exhibit. They will have a chance to make a presentation through Live Streaming on the evening of September 16 (Friday) . Please see the details of SOWN here.

Qualification

Open to all individuals regardless of nationality, age, or occupation (students, game producers, etc.) and to all corporate bodies.

Group or Organization that can be exhibited

・For annual sales of organizations that attempt to exhibit:

Corporate : Annual Sales with USD500,000/JPY50 Million or less

Individual : Annual Sales with USD100,000/JPY10 Million or less

・For companies or organizations that try to exhibit at Indie Game "Selected Exhibit", the exhibitors must be financially independent.
(For example, the capital of major game company is not in.)

What can be exhibited

・A completely original game (Derivative content cannot be exhibited regardless of whether or not it is licensed.)

・Created for a platform for which an applicant has the right to develop.

・Works that comply with the CESA Code of Ethics and the CERO Code of Ethics(http://www.cero.gr.jp/en/publics/index/18/) and do not fall under any of the following items:

1) An expression that conflicts with or that may conflict with Attached Appendix 3 "Banned Expressions" of the CERO Code of Ethics(http://www.cero.gr.jp/en/publics/index/18/) is included.

2) Works for which an "Z" rating category was assigned by CERO or an expression equivalent to the"Z" rating category may be included.

3) Works that have already been released overseas and for which a "17+" (MATURE) rating category was assigned by an overseas examination body (e.g. ESRB).

4) Works planned to be released overseas for which a "17+" (MATURE) rating category is expected to be assigned by an overseas examination body (e.g., ESRB) (excessively bloody works that cannot be regarded as being equivalent to a "13+" (TEEN) rating category.
Platinum Sponsors*

Application acceptance order
Gold Sponsor
Device Sponsor
Selected Exhibit

Benefits of
"Selected Exhibit"

TGS2022 will provide the following services to exhibitors (For Selected Indie Game Developers) with free of charge.

●A dedicated booth will be set up in the Indie Game Area at the Makuhari Messe venue.(See the booth image)

●5 exhibitor passes

●Internet WiFi Access at the booth (no guaranteed bandwidth)

*No platform and monitor is included at the booth. Please prepare it by exhibitor's own self.

●Exhibitor name is posted on the "Exhibitor List" page.

●Exhibitor introduction pages (Japanese and English) are provided

●Link the exhibitor's Steam page on the TGS special site set up on Steam

●Use of TGS Business Matching System

●Providing opportunities of free online trial plays to TGS2022 visitors

●Participation in online exchange meeting for people involved in indie games

Booth image of " Selected Exhibit "
Selected Exhibit

To Apply

Deadline

May 27 (Fri.), 2022 (Japan Standard Time)

Application

Submit Indie Game "Selected Exhibit" ENTRY FORM

Schedule

"Selected Exhibit" screening result: Late June
"SOWN" Finalist : Late July

Contact

TOKYO GAME SHOW Indie Game Secretariat
indiegame@eventinfo.tokyo
SOWN

What is "SOWN"?

SENSE OF WONDER NIGHT (SOWN) throws spotlights on indie game developers to draw wellspring of ideas which may stir the static concept of the game. In other words, SOWN2022 will find out the game ideas causing "SENSE OF WONDER". To make such unique ideas widely known, SOWN would provide a presentation opportunity for game developers with unique ideas at TOKYO GAME SHOW. SOWN is celebrating its 15th anniversary this year.

※Watch the "SENSE OF WONDER NIGHT (SOWN) 2021" on YouTube
https://www.youtube.com/watch?v=QvH1JkCGjhk
SOWN
Objectives of "SOWN"
● To introduce game with a game design and ideas that are experimental and creative, and that cannot be called conventional or traditional
● To raise awareness of the great value of "Sense of Wonder" in games, which may transform the common sense of game, and lead to invigorate the game industry
● To provide future opportunities for those who are developing experimental and creative games.
● To create new domains in the game industry
Five Criteria That Match SOWN
(1) A game that realizes a totally new, never-seen-before gaming experience

A game that employs technologies that have not previously been used successfully, such as natural language processing, physics engines, image recognition or gesture control, to present a new kind of experience.

(2) A game that challenges the common sense of games

A game that pursues new ways of gaming expressions and changes the player's vision of the world after playing and experiencing it.

(3) A game with emergent features

A game that brings user's activities into the game world by embedding features such as AI interactions and social elements.

(4) A game that makes people want to play it immediately

A game that makes everyone thinks that they want to enjoy the new experience for themselves and feel that they want to treasure it.

(5) An amazing game

Any kind of new, eye-grabbing and impressive game!!
Acknowledgement
The "SENSE OF WONDER NIGHT" event has received a lot of inspiration from the "Experimental Gameplay Workshop" that was started at the Game Developers Conference in 2001. We would like to express our thanks to the many people who helped to make these workshops a success and to all our friends.
SOWN

SOWN2022 Presentation

Date

September 16 (Fri.), 2022 (Japan Standard Time)

Venue

TGS Streaming Studio at Makuhari Messe 

Prize Money

Grand prix (Audience Award Grand Prix) USD 3,000

Other awards USD 500

Audience Award Semi-Grand Prix

Best Technological Game Award

Best Arts Award

Best Experimental Game Award

Best Game Design Award

Best Presentation Award

Notes: The Presentation Day

- The presenter is assumed to be displayed at Indie game "Selected Exhibit".

- Each presenter will be given 10 minutes for their presentation. Demonstrate or present your game within the time limit.

(There will be consecutive English-Japanese interpreting for all presentations.)

- Presentations will be streamed live and archived.